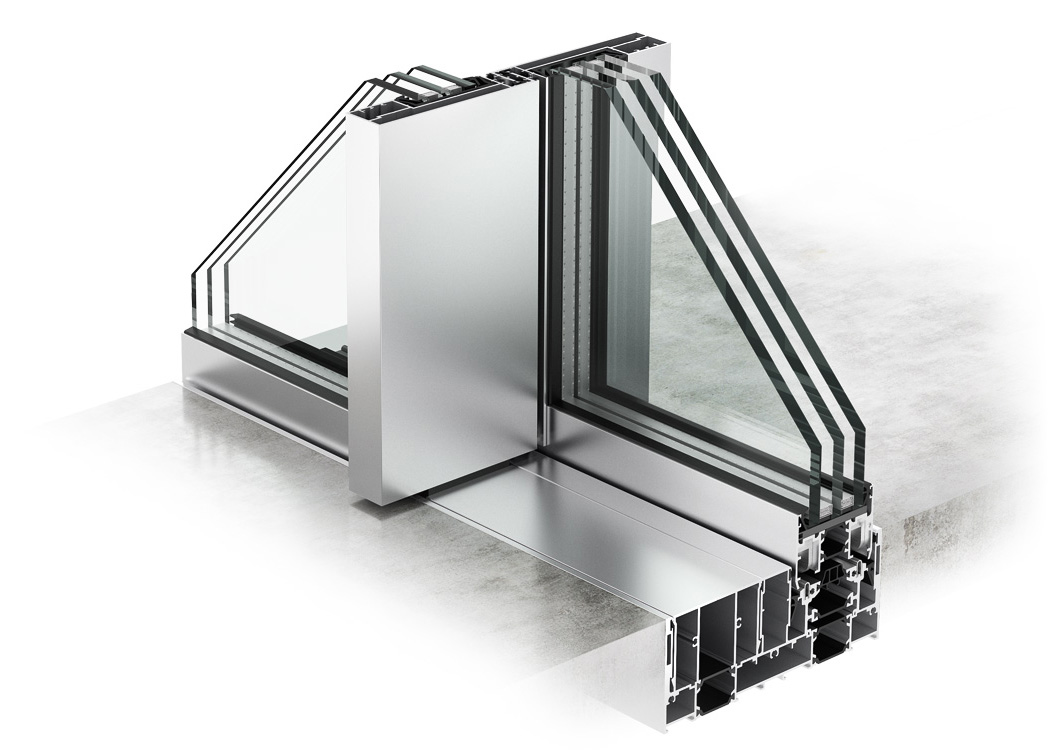 cero III
cero III offers high thermal insulation with triple glazing and a sash installation depth of 72 mm. cero III is particularly energy-efficient, a design highlight for luxurious private construction. The system can achieve U values of ≤ 0.80 W/m2K, thus meeting passive house standards.
PROPERTIES
cero III
SLIDING ELEMENTS (MAX. WIDTH × MAX. HEIGHT)
4 × 6 m / max. sash size 15 m²
FIXED GLAZING (MAX. WIDTH × MAX. HEIGHT)
4 × 6 m / max. sash size 15 m²
INSULATING GLASS (TRIPLE GLAZING)
48 – 54 mm (ESG) / 50 mm standard
DAYLIGHT / GLASS PROPORTION
98%
RUNNER TECHNOLOGY
Stainless-steel rollers and slide rails
SLIDE RAIL / BASE PROFILE
barrier-free in accordance with DIN 18 025
SASH WEIGHT
max. 1,000 kg
SURFACE AREAS
34 mm all around
FRAME HEIGHT
0 – 79 mm
UW CALCULATION (WIDTH × HEIGHT 5 × 2.7 M) ACCORDING TO STANDARD
EN 10 077
THERMAL SEPARATION
in frame and sash profile
THERMAL INSULATION VALUE (GLASS UG = 1,1)
-
THERMAL INSULATION VALUE (GLASS UG = 0.5)
Uw bis 0,76 W/m²K
WATER IMPERMEABILITY UP TO CLASS
E750 (EN 12 208 / EN 1027)
AIR PERMEABILITY UP TO CLASS
4 (EN 12 207 / EN 12 211)
RESISTANCE TO WIND LOAD UP TO
B3 (EN 12 210 / EN 1627)
ANTI-BURGLAR PROTECTION CLASS
RC3 (WK3), (EN 1628, 1629, 1630 / EN 1627)
SPECIAL REQUIREMENTS

Connection to alarm system, position monitoring and notification systems such as glass-breakage sensors
Functional glass protecting against break-in, bullet impact and noise
Electrical drive

TECHNICAL FEATURES

Thermally separated frame and sash profiles
Replaceable rollers (without removing the sashes)
Reinforced brush seals in front of rollers
Glazing rebate ventilation and draining excluding vertical sash sealing
Glass thickness tolerances of up to 5 mm possible
Linear load transfer in structure
Polyethylene-reinforced Q-Lon seals
24 mm locking latch in locking point/frame profile
Locking points adjustable by +/–5 mm
Download a brochure
Browse the extensive range of products we offer here in our catalogue. This is available to you as a PDF or in hard copy.
Photos & illustrations of all ranges

Specifications, finishes & colours
New technologies

Multiple glazing options

Guarantees & Warranties
DOWNLOAD
Have an exciting project and need advice? Call us Now
GET IN TOUCH