Triple glazing for the price of Double!!
17th September 2020
Get triple glazing for the price of double and enjoy a warmer home sooner rather than later
Our super efficient triple glazing will make your home warmer, quieter and safer
Triple the benefits at half the cost
Continually Efficient
Safety All Around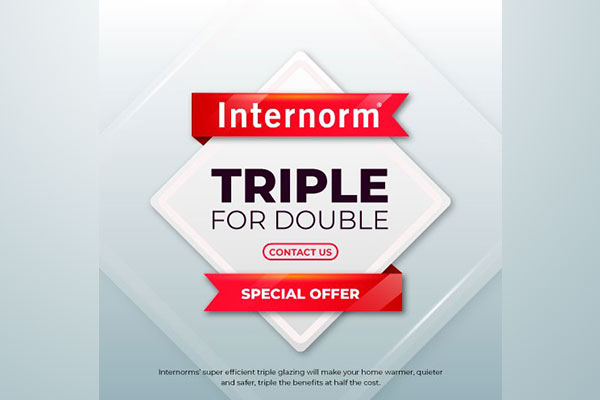 I-Tec Glazing: All-Round Innovation
To ensure maximum security for your home, our windows are equipped with I-tec glazing. Many windows are only connected to the frame at a few points. Our I-tec glazing however, offers continuous all-round fixing of the glass pane as standard. This continuous bonding significantly improves the windows stability, thermal insulation, sound insulation and security.
I-Tec Insulation: Greater Insulation
For greater energy efficiency, we use I-tec insulation throughout our UPVC-aluminium window range. Our windows are filled with granulate instead of foam, enabling the smallest of gaps to be filled. This provides high levels of insulation, helping to keep heating costs low.
ECLAZ® - THE PREMIUM GLASS COATING
At Internorm, we offer enhanced thermal insulation glazing as standard. The ECLAZ® offers unprecedented thermal insulation, making it extremely eco-friendly. It also offers high transpa-rency, ensuring up to 10% more daylight. Combining energy savings with improved comfort, the ECLAZ® is eco-innovation at its best.
Eco-Friendly - offers excellent insulation and lowers CO2
Energy Efficient - combines energy savings with improved comfort
Enhanced Natural Light - enjoy up to 10% more daylight
Other Articles
26th May 2023
05th May 2023
03rd April 2023
10th March 2023
06th March 2023
03rd February 2023
16th January 2023
21st December 2022
13th December 2022
05th December 2022